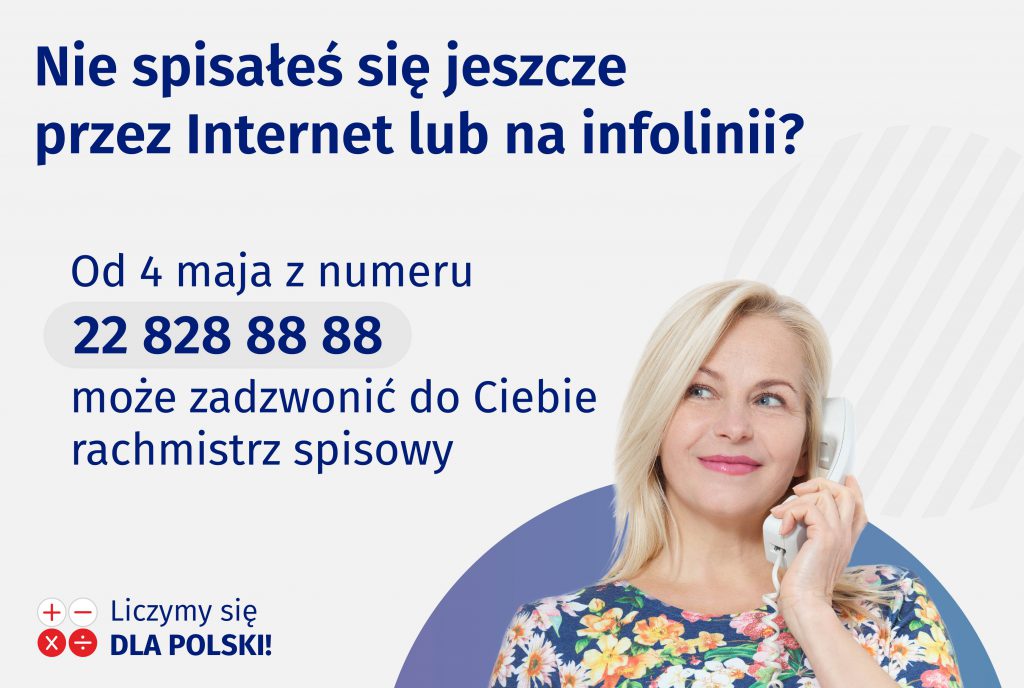 od 1 kwietnia br. na terenie całej Polski przeprowadzane jest najważniejsze, obowiązkowe badanie statystyczne – Narodowy Spis Powszechny Ludności i Mieszkań 2021 (NSP 2021). NSP 2021 to czas, kiedy państwo, zadając wszystkim obywatelom kilka pytań, stara się zdiagnozować: "ilu nas jest", "kim jesteśmy" i "jak żyjemy". Co istotne, w przypadku wielu cech demograficzno-społecznych, jak np. wyznanie, narodowość czy stopień niepełnosprawności, NSP jest jedynym źródłem danych.
Obowiązkową metodą spisu jest tzw. samospis , tj. samodzielne spisanie się przez Internet. W związku z tym, tych z Państwa, którzy jeszcze tego nie zrobili zachęcamy do spisania się już dziś poprzez aplikację spisową dostępną na stronie https://spis.gov.pl/ lub dzwoniąc pod numer telefonu 22 279 99 99.
Od 4 maja br. swoją pracę przez telefon rozpoczęli rachmistrzowie spisowi. Będą dzwonić wyłącznie z numeru 22 828 88 88.
Ze względu na panujący stan epidemii wywiady bezpośrednie nie będą realizowane aż do odwołania. Oznacza to, że nikt nie zapuka w tej sprawie do Twoich drzwi. A jeśli zapuka ktoś, kto będzie podawał się za rachmistrza spisowego, to może być to oszust! Nie wpuszczaj go do mieszkania ani nie udzielaj żadnych informacji. Jeśli podejrzewasz, że ktoś podszywa się pod rachmistrza, jak najszybciej skontaktuj się z policją.
Jeśli już się spisałeś przez Internet lub telefonicznie, nikt nie będzie do Ciebie dzwonić w tej sprawie.
Pamiętaj, że możesz sprawdzić tożsamość rachmistrza na infolinii spisowej pod numerem 22 279 99 99 i również poprzez aplikację dostępną na stronie https://rachmistrz.stat.gov.pl/.
Jeśli zweryfikowałeś rachmistrza i jesteś pewien, że dzwoni do Ciebie w celu przeprowadzenia spisu, pamiętaj, że zgodnie z ustawą nie możesz odmówić podania mu danych.
Warto zapoznać się zawczasu z zakresem pytań spisowych na stronie www.spis.gov.pl.
Rachmistrz nie zapyta Cię o zarobki, oszczędności, cenne przedmioty w domu, numer konta, PIN do karty czy dane logowania do bankowości internetowej. Takich pytań w formularzu spisowym nie ma! Jeśli je usłyszysz – to może wskazywać na próbę wyłudzenia danych. Sprawę należy niezwłocznie zgłosić na policję.
Apelujemy o ostrożność. Pomóżmy również osobom starszym bezpiecznie zrealizować obowiązek spisowy.
Więcej informacji dostępnych jest na stronie spisowej https://spis.gov.pl/.