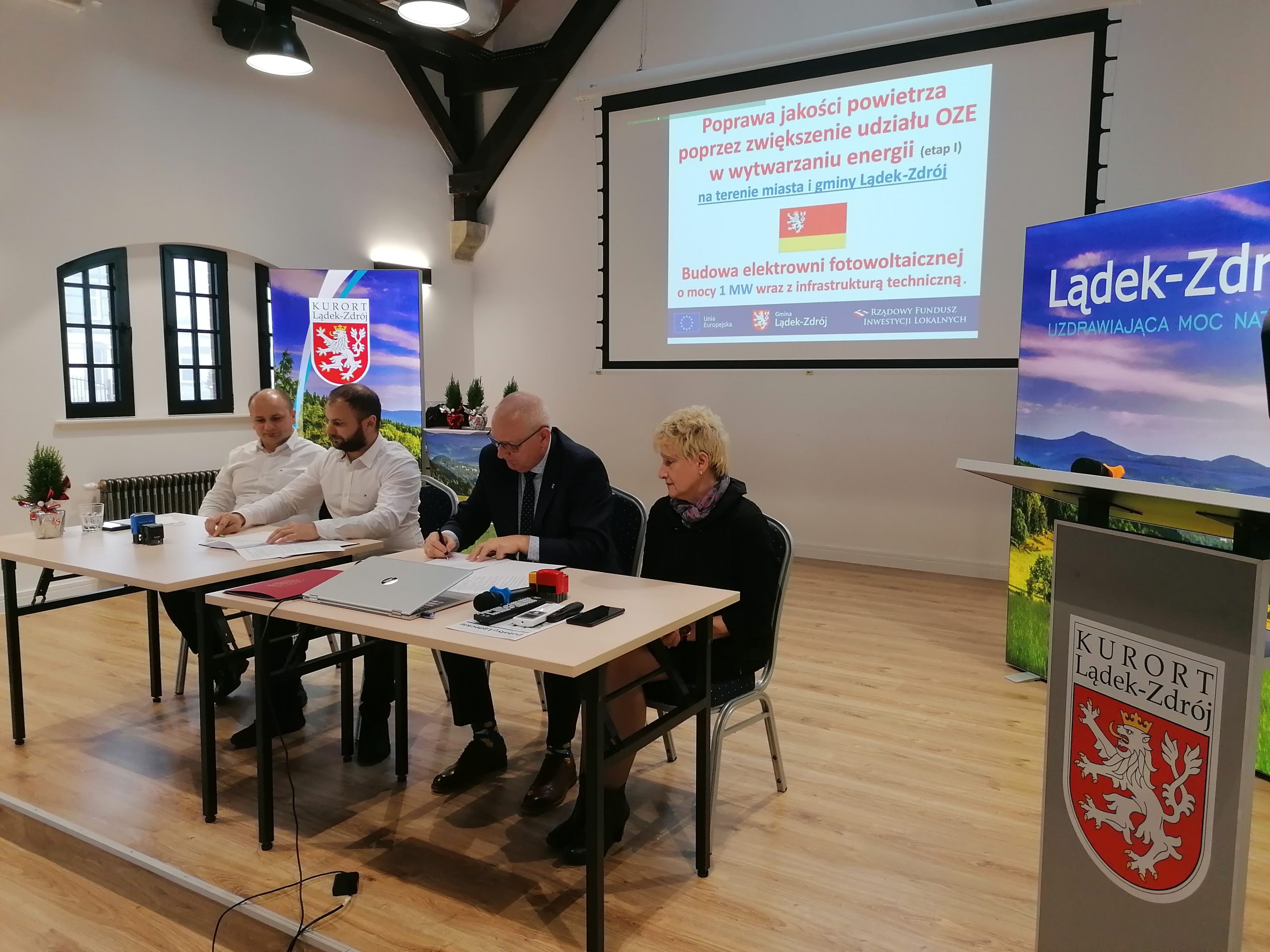 Dziś, 14 grudnia 2021r., w przestrzeniach lądeckiego Inkubatora Przedsiębiorczości, doszło do podpisania umowy pomiędzy gminą Lądek-Zdrój a wykonawcą budowy farmy fotowoltaicznej – firmą EKO-Solar Sp. z o.o.
Powyższa inwestycja jest częścią dużego proekologicznego projektu pn.: " Poprawa jakości powietrza poprzez zwiększenie udziału OZE w wytwarzaniu energii na terenie miasta i gminy Lądek-Zdrój – Budowa elektrowni fotowoltaicznej o mocy 1MW wraz z infrastrukturą techniczną".
Zanim zainteresowane przedsięwzięciem strony parafowały umowę, Burmistrz Lądka-Zdroju – Roman Kaczmarczyk przedstawił przybyłym na to wydarzenie radnym Rady Miejskiej Lądka-Zdroju, dolnośląskim samorządowcom a także obecnym przedstawicielom sektora energetycznego, zarys koncepcji całego działania, którego głównym celem jest zwiększenie zasobów energii pochodzącej ze źródeł odnawialnych oraz jej szerokie wykorzystanie w celu poprawy jakości powietrza i redukcji tzw. niskiej emisji.
Warto zaznaczyć, że dzisiejsze wydarzenie jest początkiem I etapu dużego założenia, w ramach którego gmina będzie dysponować elektrownią fotowoltaiczną o mocy 1MW. Jednak w ramach rozpoczętego właśnie działania lądecki samorząd zdobędzie także dokumentację umożliwiającą w przyszłości rozbudowanie elektrowni i zwiększenie jej wydajności do ponad 8MW. Aby zapewnić dostęp do sieci przesyłowych i gwarancję odbioru takiej mocy gmina Lądek-Zdrój porozumiała się wcześniej również z operatorem energetycznym. Sama realizacja I etapu winna przynieść gminie juz za rok pierwsze korzyści w postaci obniżeni kosztów energii zużywanej na potrzeby własne gminnych jednostek. Zwiększenie produkcji i pozyskanie przez to dodatkowej "zielonej" energii w przyszłości lądecki samorząd chce przeznaczyć na działania związane z ochroną środowiska i innowacyjne rozwązania podnoszące komfort życia mieszkańców oraz wypoczywających w Lądku-Zdroju kuracjuszy i turystów.