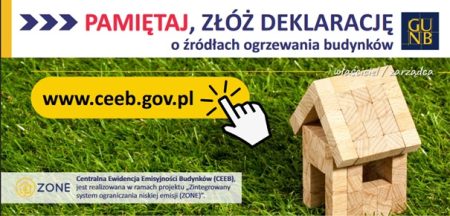 Szanowni Państwo, 
po 30 czerwca 2022 r. wciąż przyjmujemy i wprowadzamy deklaracje do CEEB. 
 
Zakończenie ustawowego terminu składania deklaracji nie zmienia sposobu postępowania urzędników. Aplikacja CEEB https://ceeb.gov.pl/ również działa tak, jak dotychczas. 
Obowiązek złożenia deklaracji do CEEB wynika z ustawy o wspieraniu termomodernizacji i remontów oraz o centralnej ewidencji emisyjności budynków i nie jest to obowiązek jednorazowy. Zgodnie z przepisami, obowiązek ten nadal z nami pozostaje: 
         dla nowych źródeł ciepła – 14 dni od uruchomienia,

         dla źródeł ciepła wymienianych na nowe – 14 dni od uruchomienia,

         dla wszystkich zapominalskich – natychmiastowe złożenie deklaracji.
To oznacza, że nadal przyjmujemy i wprowadzamy deklaracje do CEEB! 
Ponadto przypominamy, że pracownicy gmin na wprowadzenie do CEEB już otrzymanych deklaracji papierowych, mają 6 miesięcy od dnia ich złożenia. 
To oznacza, że proces wprowadzania deklaracji do systemu w gminach nadal trwa. 
Centralna Ewidencja Emisyjności Budynków (CEEB) to  jeden z  elementów tzw. Zintegrowanego Systemu Ograniczania Niskiej Emisji (ZONE), który powstaje w  Głównym Urzędzie Nadzoru Budowlanego. Jej celem jest poprawa jakości powietrza walka ze smogiem i pomoc w wymianie tzw.: "kopciuchów". Aby uzyskać wszystkie wymagane informacje na temat CEEB należy wejść na stronę https://www.gunb.gov.pl/  
Jak złożyć deklarację?  
Deklarację można złożyć na dwa sposoby: 
drogą elektroniczną: przez Internet, za pomocą profilu zaufanego, podpisu kwalifikowanego lub e-dowodu na stronie: www.zone.gunb.gov.pl. Jest to najszybszy  i najwygodniejszy sposób.  
W formie papierowej: wypełniony formularz można przesłać lub złożyć osobiście                     w Urzędzie Miasta i Gminy.  
Jakie są wzory deklaracji do CEEB?  
Formularz A – budynki i lokale mieszkalne 
Formularz B – budynki i lokale niemieszkalne 
https://www.gunb.gov.pl/strona/wzory-deklaracji-i-wnioskow